Synopsis
A disturbed high-school student with authority problems kills one of his teachers and takes the rest of his class hostage. Over the course of one long, tense and unbearable hot afternoon, Charlie Decker explains what led him to this drastic sequence of events, while at the same time deconstructing the personalities of his classmates, forcing each one to justify his or her existence. (Goodreads)
---
Rage was an unpredictable, gripping read full of emotional turns and reminiscent to Salinger's Catcher in the Rye, the book of teenage angst and alienation. Indeed, Rage lingers on similar themes that makes it quite a depressing read. It's the sort of book that makes you question a lot of important things– was I really this shitty or is society's fault? I'm not sure myself if I liked the book or not, much like my disorientation on reading Catcher in the Rye. But it was an engrossing book, though, this is King we're talking about.
Lunacy is when you can't see the seams where they stitched the world together anymore.
King wrote this book during his college years and published it later under the pseudonym Richard Bachman. He wrote a few other novels under this name and I'm going to be particular about The Long Walk, which he also wrote during his college years. Both books star teenagers and may as well be categorized under YA. Both novels also put these teenagers in rather unlikely situations that pushes them in corners and creates a lot of tension and drama. King does YA rather wonderfully with his kind of grit that keeps you glued to the pages. While the Long Walk is a quiet, emotional drama, Rage jumps into the gun and throws you into a tornado. It is uncontrolled, jarring and unpleasant.  I can't guess what it was leading up to and it feels like the book just wants to get over with itself. It's either you'd be turned-off or be completely fascinated with its voice. I was the former at first and when I finished it, I intensely disliked it. It took me a month before I realized it was actually a good read and one you won't mind reading once more. I'm still mixed about it, mainly because I dislike reading angsty novels, though I can't say they're bad in general.

The book was different from what I had expected. It was a controversial book, said to inspire a few students to begin their own school shoot-outs. King pulled out the distribution of the book himself. The book isn't violent, but emotionally, it was so. I can't say it pushed me to grab a gun myself, but it did stir-up something inside me. One chapter we see Charlie's lifestyle, the other we hear his classmates share their stories inside the classroom. Each chapter brings a loosely constructed story, some we're not sure are true and some heavily based on the storyteller's feelings. Everything in this book runs under compulsion. Like I said earlier, it simply wants to get things done, and swiftly, it does.

Charlie Decker was a very effective narrator and King's voice rings through him. You'll hate him, like him, feel bad for him, empathize with him and in the end, you just don't know what to think of him.  It took me awhile to get used to him and he's likely the kid in school I wouldn't want to be friends with. He mirrors the perplexing stage of adolescence, where you don't want others to understand you and yet you want to be understood, when you feel cornered and puzzled by your own feelings and actions. If he wasn't the main character of this book, he'd make a one compelling antagonist, though, he is no goody hero in this book.

When you're five and you hurt, you make a big noise in the world. At ten you whimper. But by the time you make fifteen you begin to eat the poisoned apples that grow on your own inner tree of pain.
The Verdict: Four out of Five Hunny Pots



---
Highlights:
✓ An unpredictable, gripping and emotional read
✓ High re-read factor
✓ A compelling anti-hero
---
If you liked Rage,
A Clockwork Orange by Anthony Burgess (Goodreads)

Taking place in a not-so-distant future, A Clockwork Orange stars a similar main character with disagreeable qualities. It questions morality and portrays a cold and bleak future.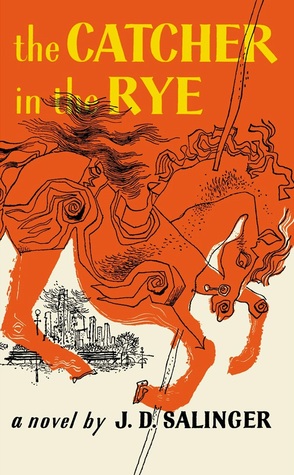 The Catcher in the Rye by J.D. Salinger (Goodreads)

The Catcher in the Rye echoes strongly in Stephen King's Rage. If you want a similar, angsty but emotional and powerful novel, than this is one for you.