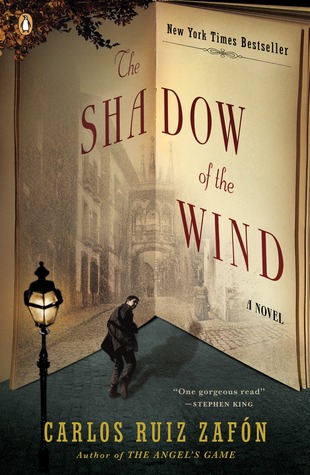 The Shadow of the Wind (The Cemetery of Forgotten Books #1) by Carlos Ruiz Zafón
Barcelona, 1945: A city slowly heals in the aftermath of the Spanish Civil War, and Daniel, an antiquarian book dealer's son who mourns the loss of his mother, finds solace in a mysterious book entitled The Shadow of the Wind, by one Julián Carax. But when he sets out to find the author's other works, he makes a shocking discovery: someone has been systematically destroying every copy of every book Carax has written. In fact, Daniel may have the last of Carax's books in existence. Soon Daniel's seemingly innocent quest opens a door into one of Barcelona's darkest secrets–an epic story of murder, madness, and doomed love. (Goodreads)

Once, in my father's bookshop, I heard a regular customer say that few things leave a deeper mark on a reader than the first book that finds its way into his heart. Those first images, the echo of words we think we have left behind, accompany us throughout our lives and sculpt a palace in our memory to which, sooner or later—no matter how many books we read, how many worlds we discover, or how much we learn or forget—we will return.
How do I even begin talking about The Shadow of the Wind?
As it unfolded, the structure of the story began to remind me of one of those Russian dolls that contain innumerable ever-smaller dolls within. Step by step the narrative split into a thousand stories, as if it had entered a gallery of mirrors, its identity fragmented into endless reflections."
That's an actual quote from the book. The nerve.
…until that moment I had not understood that this was a story about lonely people, about absence and loss, and that that was why I had taken refuge in it until it became confused with my own life, like someone who has escaped into the pages of a novel because those whom he needs to love seem nothing more than ghosts inhabiting the mind of a stranger."
Well, I'll be damned. The book is doing all the review by itself. What am I here for?
"Well, this is a story about books."

"About books?"

"About accursed books, about a man who wrote them, about a character who broke out of the pages of a novel so that he could burn it, about a betrayal and a lost friendship. It's a story of love, of hatred, and of the dreams that live in the shadow of the wind."
Shut up book. You're taking over my job.
Could I just fill this review with quotes? Of course I can. The Shadow of the Wind is a bookworm's trove of quotes, the ones you post in Pinterest or your own wall. It's a book that loves books.

A story is a letter that the author writes to himself, to tell himself things that he would be unable to discover otherwise."
Books are mirrors: you only see in them what you already have inside you."
I was raised among books, making invisible friends in pages that seemed cast from dust and whose smell I carry on my hands to this day."
Okay! The Shadow of the Wind. It is, so far, the best book I've read in this year and I'm painstakingly trying to keep a sensible grasp about it so I could provide a good review. However, that seems impossible because it has recently been shelved under my-favorite-books and I cannot, for my life, review my favorite books without losing control. But I shall try. I shall. Try.
The Shadow of the Wind is a story of stories told from 18-year old Daniel Sempere's POV. The book has this somber tone in it that reminds you of snow, fog and rain that fits well to those with colder temperaments. It takes place after the Spanish Civil War, and while the book isn't an historical account of its aftermath, it has a life of its own with the people of Barcelona making it up, with a classical Gothic setting to boost. Haunted mansions, secret libraries, and tragic romance– it has everything. You could see how seductive this book is to the likes of me.

The structure of the novel shifts from first-person to third, to another character, and sometimes both for continuity. While some may think it's lazy writing, it helps the readers view things smoothly, quite like a film, and just loose itself with its many stories. What I especially loved about the book is its prose, which is simply beautiful and breathtaking. It's a pretty book, a term I use when embellishing is happening instead of story-telling. I get bored with pretty books easily but this one didn't had me drooping my eyes. It never runs out of profound words to say and every character has a story to tell, from the book lover and buyer Barcelo, who always has a witty line to say to Daniel's best buddy, adviser, sidekick, the crafty and enigmatic (and recently monogamist) Fermin. It is surprisingly gripping but thoughtful.

I couldn't help thinking that if I, by pure chance, had found a whole universe in a single unknown book, buried in that endless necropolis, tens of thousands more would remain unexplored, forgotten forever. I felt myself surrounded by millions of abandoned pages, by worlds and souls without an owner sinking in an ocean of darkness, while the world that throbbed outside the library seemed to be losing its memory, day after day, unknowingly, feeling all the wiser the more it forgot."
I loved how Daniel's life mirrors Julian and how he could have ended up like him if not for the different choices he made. Julian's story was a tragic one but I loved how his story ended, dotting his lifetime of sadness and despair with Daniel's happier ending and finally, closing the book with Daniel's much older and much wiser character. It's always sad to see characters grow-up and it's always sad to see a book end. I finished the novel still wanting more and I am sure to read more from Carlos Ruiz Zafón.
The Verdict: 5/5 Stars
That book taught me that by reading, I could live more intensely. It could give me back the sight I had lost. For that reason alone, a book that didn't matter to anyone changed my life."
---
Highlights:
✓Has an unconventional structure, a lovely prose and a Gothic setting
✓Stories within stories within stories Inceptiooon
✓An array of interesting characters with interesting stories
✓Has a thoughtful look on pain and loneliness
✓Nuria Monfort
✓A book that understands the value of books
---
If you liked The Shadow of the Wind,
Hover then click the captions for more details about the book.
---
About the Author
Carlos Ruiz Zafón is a Spanish novelist. Born in Barcelona in 1964, he has lived in Los Ángeles, United States, since 1994, and works as a scriptwriter aside from writing novels.
His first novel, El príncipe de la niebla (The Prince of Mist, 1993), earned the Edebé literary prize for young adult fiction. He is also the author of three more young-adult novels, El palacio de la medianoche (1994), Las luces de septiembre (1995) and Marina (1999).
In 2001 he published the novel La sombra del viento ("The Shadow of the Wind"), his first "adult" novel, which has sold millions of copies worldwide. Since its publication, La sombra del viento has garnered critical acclaim around the world and has won numerous international awards. Ruiz Zafón's works have been published in more than 40 countries and have been translated into more than 30 languages. Twitter | Website