The Three Ws are:
---
What are you currently reading?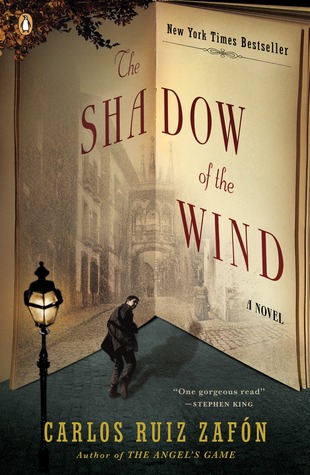 A boy tries to solve the mystery of Julian Carax, author of his favorite book.
I just started reading this and wow, did it leave me breathless. I already have a dozen quotes highlighted and I haven't even reached a third of it. After my emotional outbursts (or in-bursts, that is) while reading The Last Policeman, The Shadow of the Wind was a warm welcome because indeed, reading it feels as if the words are embracing you. I don't want to be dramatic here, but it really does feel like that.
"Every book, every volume you see here, has a soul. The soul of the person who wrote it and of those who read it and lived and dreamed with it. Every time a book changes hands, every time someone runs his eyes down its pages, its spirit grows and strengthens."
---
What did you recently finished reading?
A man who slaughters humans during his period lunar cycles (that are not accurate Lunar Cycles).
It's not about Stephen King written by Cycle of the Werewolf. as interesting as that would be, but Stephen King does write about a werewolf. An educational book for children who's still learning their months and seasons, complete with cute illustrations by Bern Wrightson.
---
What will you read next?
Angst. Teenagers. Pain. Nerds.
Saw Giovannard's review of it and was instantly piqued. Check out her review here.
Magicians who do not use magic. Footnotes. There's a prophecy but there's damn too many footnotes to worry about.
The Shadow of the Wind was never in my TBR-list until yesterday, but that's because I couldn't read Jonathan Strange & Mr. Norrell for five minutes without dozing off. It started off as really interesting– two gentlemen talking about magic or perhaps, the lack of it, and I could imagine this pompous magic society controlled by dusty old men who do nothing but discuss and debate and sneer at those who do practice magic. I really like the idea of magic contained under theory and its gradual disintegration because of humanity's lack of imagination. That is, until the footnotes started coming in, which requires more than imagination to finish. I think I spent more time reading the footnotes than reading the actual book. I could skip them but they appeared important to the story's actual text so yeah, I have to read them all. It's like reading an encyclopedia in-between, something I'm not very fond of.
Trains. 
I also started on this one! And decided to close it for The Shadow of the Wind… 
It took me quite awhile to get used with Vine's style. So far, the book introduces a bunch of characters who are loosely connected with one another. 
---
Hosted by Taking on a World of Words