Here we are again with another list of 2016 books. I made a similar list before but this one will be focusing on novels that will be released on the first half of 2016.
January
---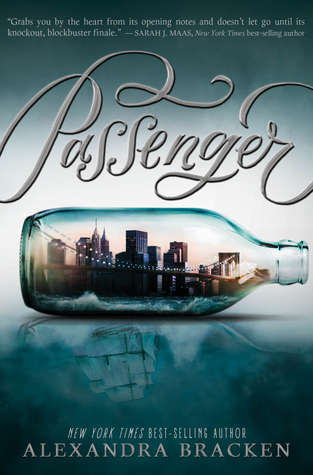 Passenger by Alexandra Bracken
In one devastating night, violin prodigy Etta Spencer loses everything she knows and loves. Thrust into an unfamiliar world by a stranger with a dangerous agenda, Etta is certain of only one thing: she has traveled not just miles but years from home. And she's inherited a legacy she knows nothing about from a family whose existence she's never heard of. Until now.
Nicholas Carter is content with his life at sea, free from the Ironwoods—a powerful family in the colonies—and the servitude he's known at their hands. But with the arrival of an unusual passenger on his ship comes the insistent pull of the past that he can't escape and the family that won't let him go so easily. Now the Ironwoods are searching for a stolen object of untold value, one they believe only Etta, Nicholas' passenger, can find. In order to protect her, he must ensure she brings it back to them— whether she wants to or not.
Together, Etta and Nicholas embark on a perilous journey across centuries and continents, piecing together clues left behind by the traveler who will do anything to keep the object out of the Ironwoods' grasp. But as they get closer to the truth of their search, and the deadly game the Ironwoods are play­ing, treacherous forces threaten to sep­arate Etta not only from Nicholas but from her path home . . . forever. (Goodreads)
Expected Date of Publication: January 5
Cover Stuff: Yes. That is amazing photo manipulation there.
The Mystery of Hollow Places by Rebecca Podos
All Imogene Scott knows of her mother is the bedtime story her father told her as a child. It's the story of how her parents met: he, a forensic pathologist, she, a mysterious woman who came to identify a body. A woman who left Imogene and her father when she was a baby, a woman who was always possessed by a powerful loneliness, a woman who many referred to as troubled waters.
When Imogene is seventeen, her father, now a famous author of medical mysteries, strikes out in the middle of the night and doesn't come back. Neither Imogene's stepmother nor the police know where he could've gone, but Imogene is convinced he's looking for her mother. She decides to put to use the skills she's gleaned from a lifetime of her father's books to track down a woman she's never known, in order to find him and, perhaps, the answer to the question she's carried with her for her entire life.
Rebecca Podos' debut is a powerful, affecting story of the pieces of ourselves that remain mysteries even to us – the desperate search through empty spaces for something to hold on to. (Goodreads)
Expected Date of Publication: January 26
Cover Stuff: A cool, lovely cover.
Others/Thoughts: This looks like one depressing novel. One reason I'm especially interested with this one is because of a novel I'm currently writing that deals with loneliness and depression (and time-travel shenanigans) and The Mystery of Hollow Places has this solemn tone in it that I want my novel to have.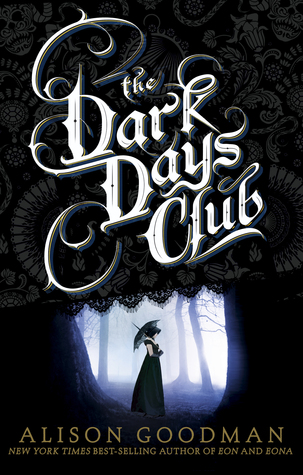 The Dark Days Club by Alison Goodman
London, April 1812. On the eve of eighteen-year-old Lady Helen Wrexhall's presentation to the queen, one of her family's housemaids disappears-and Helen is drawn into the shadows of Regency London. There, she meets Lord Carlston, one of the few who can stop the perpetrators: a cabal of demons infiltrating every level of society. Dare she ask for his help, when his reputation is almost as black as his lingering eyes? And will her intelligence and headstrong curiosity wind up leading them into a death trap? (Goodreads)

Expected Date of Publication: January 26
Cover Stuff: That typography alone could make the cover.

Others/Thoughts: The author's works usually fall into Sci-Fi/Fantasy, all interesting and well-reviewed. She calls her latest book "Pride and Prejudice meets Buffy in English high society" because it is always a trend to turn the 18th century into a hell hole of demons and mutants and zombies.
His reputation is as black as his lingering eyes. Of course it is.
You could read the excerpt here.
February
---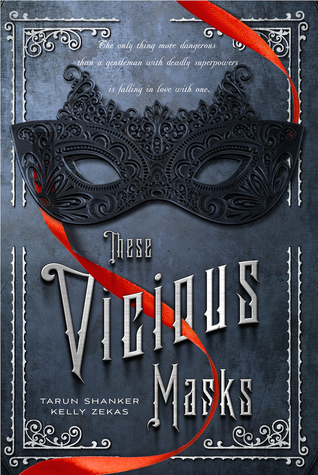 These Vicious Masks by Tarun Shanker, Kelly Zakas
Jane Austen meets X-­Men in this gripping and adventure-­filled paranormal romance set in Victorian London.
England, 1882. Evelyn is bored with society and its expectations. So when her beloved sister, Rose, mysteriously vanishes, she ignores her parents and travels to London to find her, accompanied by the dashing Mr. Kent. But they're not the only ones looking for Rose. The reclusive, young gentleman Sebastian Braddock is also searching for her, claiming that both sisters have special healing powers. Evelyn is convinced that Sebastian must be mad, until she discovers that his strange tales of extraordinary people are true—and that her sister is in graver danger than she feared. (Goodreads)
Expected Date of Publication: February 9
Cover Stuff: The dash of red made the cover more interesting, thought I can't say I find it appealing as a whole. Those borders kind of bother me.
Others/Thoughts: X-Men. Jane Austen. If Elizabeth and Jane could rip boulders in half, then I suppose Pride and Prejudice would have been a blasting read. Of course there is the dashing Mr. Kent and the mysterious Sebastian because the 18th century wouldn't be complete without gentlemen hunks crowding over a single lady.
Interesting novel and the reviews are pretty good.
Perfect Days by Raphael Montes
A twisted young medical student kidnaps the girl of his dreams and embarks on a dark and delirious road trip across Brazil in the English-language debut of Brazil's most celebrated young crime writer.
Teo Avelar is a loner. He lives with his paraplegic mother and her dog in Rio de Janeiro, he doesn't have many friends, and the only time he feels honest human emotion is in the presence of his medical school cadaver—that is, until he meets Clarice. She's almost his exact opposite: exotic, spontaneous, unafraid to speak her mind. An aspiring screenwriter, she's working on a screenplay called Perfect Days about three friends who go on a road trip across Brazil in search of romance.
Teo is obsessed. He begins to stalk her, first following her to her university, then to her home, and when she ultimately rejects him, he kidnaps her and they embark upon their very own twisted odyssey across Brazil, tracing the same route outlined in her screenplay. Through it all, Teo is certain that time is all he needs to prove to Clarice that they are made for each other, that time is all he needs to make her fall in love with him. But as the journey progresses, he digs himself deeper and deeper into a pit that he can't get out of, stopping at nothing to ensure that no one gets in the way of their life together.
Both tense and lurid, and brimming with suspense from the very first page, Perfect Days is a psychological thriller in the vein of Patricia Highsmith's The Talented Mr. Ripley—a chilling journey in the passenger seat with a psychopath, and the English language debut of one of Brazil's most deliciously dark young writers. (Amazon)
Expected Date of Publication: February 16
Cover Stuff: A white empty suitcase. Yes, it does bring out a chilling visual if you read the synopsis but at first glance it looks like a chick-flick. The rope forming an X over The Perfect Days was a nice touch but I think the cover could be more scary and interesting.
Others/Thoughts: This looks like my kind of book.
April
---
Gena/Finn by Kat Helgeson and Hannah Moskowitz
The story follows the unlikely friendship of two young women forged via fan fiction and message boards, and is told entirely in texts, chats, and blog posts.
Gena (short for Genevieve) and Finn (short for Stephanie) have little in common. Book-smart Gena is preparing to leave her posh boarding school for college; down-to-earth Finn is a twenty-something struggling to make ends meet in the big city. Gena's romantic life is a series of reluctant one-night-stands; Finn is making a go of it with long-term boyfriend Charlie. But they share a passion for Up Below, a buddy cop TV show with a cult fan following. Gena is a darling of the fangirl scene, keeping a popular blog and writing fan fiction. Finn's online life is a secret, even from Charlie. The pair spark an unlikely online friendship that deepens quickly (so quickly it scares them both), and as their individual "real" lives begin to fall apart, they increasingly seek shelter online, and with each other. (Goodreads)
Expected Date of Publication: April 5
Others/Thoughts: It is a book about fangirls fangirling together.
In this stunning debut, legends collide with reality when a boy is swept into the magical, dangerous world of a girl filled with poison.
Everyone knows the legends about the cursed girl–Isabel, the one the senoras whisper about. They say she has green skin and grass for hair, and she feeds on the poisonous plants that fill her family's Caribbean island garden. Some say she can grant wishes; some say her touch can kill.
Seventeen-year-old Lucas lives on the mainland most of the year but spends summers with his hotel-developer father in Puerto Rico. He's grown up hearing stories about the cursed girl, and he wants to believe in Isabel and her magic. When letters from Isabel begin mysteriously appearing in his room the same day his new girlfriend disappears, Lucas turns to Isabel for answers–and finds himself lured into her strange and enchanted world. But time is running out for the girl filled with poison, and the more entangled Lucas becomes with Isabel, the less certain he is of escaping with his own life. (Goodreads)
Expected Date of Publication: April 12
Cover: A+++
Others/Thoughts: A debut novel that needs a more subtle title. That said, it looks like it's going to be another YA/romance novel though Isabel is quite a fascinating character.
May
---
The Wolf in the Attic by Paul Kearney
1920s Oxford: Home to C.S. Lewis, J.R.R. Tolkien… and Anna Francis, a young Greek refugee looking to escape the grim reality of her new life. The night they cross paths, none suspect the fantastic world at work around them.
Anna Francis lives in a tall old house with her father and her doll Penelope. She is a refugee, a piece of flotsam washed up in England by the tides of the Great War and the chaos that trailed in its wake. Once upon a time, she had a mother and a brother, and they all lived together in the most beautiful city in the world, by the shores of Homer's wine-dark sea.
But that is all gone now, and only to her doll does she ever speak of it, because her father cannot bear to hear. She sits in the shadows of the tall house and watches the rain on the windows, creating worlds for herself to fill out the loneliness. The house becomes her own little kingdom, an island full of dreams and half-forgotten memories. And then one winter day, she finds an interloper in the topmost, dustiest attic of the house. A boy named Luca with yellow eyes, who is as alone in the world as she is.
That day, she'll lose everything in her life, and find the only real friend she may ever know. (Goodreads)
Expected Date of Publication: May 10
Cover Stuff: YESS

Others/Thoughts: So, I'm guessing Luca is the wolf and the girl is suffering from hallucinations. This looks like a magical tear-jerker.

No one knows exactly when it began or where it originated. A terrifying new plague is spreading like wildfire across the country, striking cities one by one: Boston, Detroit, Seattle. The doctors call it Draco Incendia Trychophyton. To everyone else it's Dragonscale, a highly contagious, deadly spore that marks its hosts with beautiful black and gold marks across their bodies—before causing them to burst into flames. Millions are infected; blazes erupt everywhere. There is no antidote. No one is safe.
Harper Grayson, a compassionate, dedicated nurse as pragmatic as Mary Poppins, treated hundreds of infected patients before her hospital burned to the ground. Now she's discovered the telltale gold-flecked marks on her skin. When the outbreak first began, she and her husband, Jakob, had made a pact: they would take matters into their own hands if they became infected. To Jakob's dismay, Harper wants to live—at least until the fetus she is carrying comes to term. At the hospital, she witnessed infected mothers give birth to healthy babies and believes hers will be fine too. . . if she can live long enough to deliver the child.
Convinced that his do-gooding wife has made him sick, Jakob becomes unhinged, and eventually abandons her as their placid New England community collapses in terror. The chaos gives rise to ruthless Cremation Squads—armed, self-appointed posses roaming the streets and woods to exterminate those who they believe carry the spore. But Harper isn't as alone as she fears: a mysterious and compelling stranger she briefly met at the hospital, a man in a dirty yellow fire fighter's jacket, carrying a hooked iron bar, straddles the abyss between insanity and death. Known as The Fireman, he strolls the ruins of New Hampshire, a madman afflicted with Dragonscale who has learned to control the fire within himself, using it as a shield to protect the hunted . . . and as a weapon to avenge the wronged.
In the desperate season to come, as the world burns out of control, Harper must learn the Fireman's secrets before her life—and that of her unborn child—goes up in smoke. (Goodreads)

Expected Date of Publication: May 17
Cover Stuff: A catchy cover.

Others/Thoughts: A chaotic book full of utter chaos.

Rocks Fall Everyone Dies by Lindsay Ribar
Twin Peaks meets Stars Hollow in this paranormal suspense novel about a boy who can reach inside people and steal their innermost things—fears, memories, scars, even love—and his family's secret ritual that for centuries has kept the cliff above their small town from collapsing.
Aspen Quick has never really worried about how he's affecting people when he steals from them. But this summer he'll discover just how strong the Quick family magic is—and how far they'll go to keep their secrets safe.
With a smart, arrogant protagonist, a sinister family tradition, and an ending you won't see coming, this is a fast-paced, twisty story about power, addiction, and deciding what kind of person you want to be, in a family that has the ability to control everything you are. (Goodreads)
Expected Date of Publication: June 7, 2016
Cover Stuff: This cover is sending warning signals in my brain and I think it's a good thing.
Others/Thoughts: I haven't read any of Lindsay Ribar's novels but most of her works are YA and fantasy. I don't think I cater to her audience but the arrogant protagonist got me and I have no idea where the cliff comes from so I guess it's a worthwhile look.
hosted by The Broke and Bookish