New books do not usually interest me (unless I'm familiar with the author) knowing that there's a bunch of old novels out there I still haven't read. There are no old or new novels to me, there are just those I happened to have read and happened to have not read. But for this particular meme, I did a bit of research and came up with the top ten 2016 debut novels to look forward to. This was supposed to be a meme challenge for the Broke and Bookish but it went out of hand.
Some trends for the upcoming new year: YA and fantasy. Scanning Goodreads, there's huge chunk of YA fantasies brimming in the booksphere. There are also a couple of long awaited sequels like GRRM's The Winds of Winter, Red Queen, another Warm Bodies novel, and Star Wars that are quite a buzz on my Goodreads feed. I decided to limit the list to stand-alone novels. I haven't read any of these authors, so if you have, share your thoughts below and perhaps I'll try them out.
Medusa's Web by Tim Powers
In the wake of their Aunt Amity's suicide, Scott and Madeline Madden are summoned to Caveat, the eerie, decaying mansion in the Hollywood hills in which they were raised. But their decadent and reclusive cousins, the malicious wheelchair-bound Claimayne and beautiful, bitter Ariel, do not welcome Scott and Madeline's return to the childhood home they all once shared. While Scott desperately wants to go back to their south-of-Sunset lives, he cannot pry his sister away from this haunted "House of Usher in the Hollywood Hills" that is a conduit for the supernatural. Read more
Expected date of publication: January 19
Cover Stuff: Not a big fan of the design. I like how the cool dark colors gives a sinister feel along with the infamous Hollywood but there are just way too many elements on this cover, particularly the silhouette palm trees, the branches and that white web. They choke my eyes. Either get rid of those blue hues and silhouettes and leave the web alone or entirely throw away the web. I would leave the web though.
Others/Thoughts: Reading Powers's profile, his novels range from pirates to Victorian London and many of his works touch history with a dash of supernatural elements. The synopsis of Medusa's Web is convoluted enough with haunted mansions, time-travelling, and spiders. Approaching Tim Powers seems like a big leap seeing his odd variations of stories and I'm not sure I should read this one, not before I read his previous works.
All the Birds in the Sky by Charlie Jane Anders
Childhood friends Patricia Delfine and Laurence Armstead didn't expect to see each other again, after parting ways under mysterious circumstances during high school. After all, the development of magical powers and the invention of a two-second time machine could hardly fail to alarm one's peers and families.

But now they're both adults, living in the hipster mecca San Francisco, and the planet is falling apart around them. Laurence is an engineering genius who's working with a group that aims to avert catastrophic breakdown through technological intervention into the changing global climate. Patricia is a graduate of Eltisley Maze, the hidden academy for the world's magically gifted, and works with a small band of other magicians to secretly repair the world's every-growing ailments. Little do they realize that something bigger than either of them, something begun years ago in their youth, is determined to bring them together–to either save the world, or plunge it into a new dark ages.
Expected date of publication: January 26
Cover Stuff: This cover knows its symmetry and balance.
Others/Thoughts: Hyped novel. The author has an impressive profile at Goodreads. The premise is fascinating though but I will probably buy the novel because of the cover.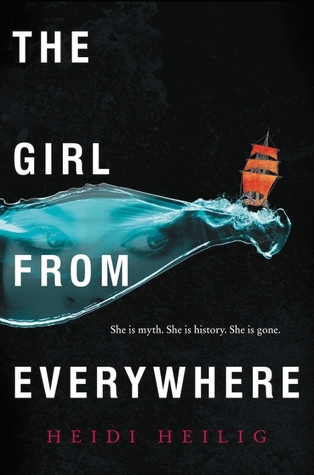 The Girl From Everywhere by Heidi Heilig
Nix's life began in Honolulu in 1868. Since then she has traveled to mythic Scandinavia, a land from the tales of One Thousand and One Nights, modern-day New York City, and many more places both real and imagined. As long as he has a map, Nix's father can sail his ship, The Temptation, to any place, any time. But now he's uncovered the one map he's always sought—1868 Honolulu, before Nix's mother died in childbirth. Nix's life—her entire existence—is at stake. No one knows what will happen if her father changes the past. It could erase Nix's future, her dreams, her adventures . . . her connection with the charming Persian thief, Kash, who's been part of their crew for two years. If Nix helps her father reunite with the love of his life, it will cost her her own.
Expected date of publication: February 16
Cover Stuff: Good cover. I like how the bright blues and oranges contrast to the large amount of black space. My only comment is the text. I don't see why it has to fill the whole book, covering the wonderful colors in the background. And I don't understand the growing trend in book covers where they put each word in the next line with huge spaces in between. It feels awkward to read. The. Girl. From. Everywhere.
Others/Thoughts: There's also a lot of hype surrounding this book. Apparently, this is Heilig's debut novel and readers who received advanced copies of the novels and even those who did not are practically screaming about it. I say, the premise is interesting and unlike most YA novels I see these days. Perhaps the only debut novel in my list.
Down Station by Simon Morden
A small group of commuters and tube workers witness a fiery apocalypse overtaking London. They make their escape through a service tunnel. Reaching a door they step through…and find themselves on a wild shore backed by cliffs and rolling grassland. The way back is blocked. Making their way inland they meet a man dressed in a wolf's cloak and with wolves by his side. He speaks English and has heard of a place called London – other people have arrived here down the ages – all escaping from a London that is burning. None of them have returned. Except one – who travels between the two worlds at will. The group begin a quest to find this one survivor; the one who holds the key to their return and to the safety of London.

And as they travel this world, meeting mythical and legendary creatures, split between North and South by a mighty river and bordered by The White City and The Crystal Palace they realize they are in a world defined by all the London's there have ever been.
Date of Publication: February 18
Cover Stuff:  Perfect.
Others/Thoughts: One novel I am sure I'll be reading next year (or someday perhaps). Down Station has similarities to Neil Gaiman's Neverwhere, which also explores Below London and its series of tubes and mazes. Morden has a fascinating novel profile from apocalyptic fantasies to sci-fi horror. His Petrovitch novel, Equations of Life, won the Philip K. Dick award. The novel takes place in post-apocalyptic London that tells about a man who got himself involved in the kidnapping of a girl, who happens to be the daughter of the most dangerous man in London.
The Brotherhood of the Wheel by R.S. Belcher
A unique new urban fantasy by the author of The Six-Gun Tarot, exploring the haunted byways and truck stops of the U.S. Interstate Highway System
In 1119 A.D., a group of nine crusaders became known as the Poor Fellow-Soldiers of Christ and of the Temple of Solomon–a militant monastic order charged with protecting pilgrims and caravans traveling on the roads to and from the Holy Land. In time, the Knights Templar would grow in power and, ultimately, be laid low. But a small offshoot of the Templars endure and have returned to the order's original mission: to defend the roads of the world and guard those who travel on them.

Theirs is a secret line of knights: truckers, bikers, taxi hacks, state troopers, bus drivers, RV gypsies–any of the folks who live and work on the asphalt arteries of America. They call themselves the Brotherhood of the Wheel. 

Jimmy Aussapile is one such knight. He's driving a big rig down South when a promise to a ghostly hitchhiker sets him on a quest to find out the terrible truth behind a string of children gone missing all across the country. The road leads him to Lovina Hewitt, a skeptical Louisiana State Police investigator working the same case and, eventually, to a forgotten town that's not on any map–and to the secret behind the eerie Black-Eyed Kids said to prowl the highways.
Expected date of publication: March 1
Cover Stuff: This cover is lazy and unimaginative.
Thoughts: I almost scrolled across this novel because of the cover. The plot, thankfully, looks amazing. Knights cruising as drivers, creepy hitchhikers, missing children and ghost towns, it's a novel to read.
The Summer Before the War by Helen Simonson
East Sussex, 1914. It is the end of England's brief Edwardian summer, and everyone agrees that the weather has never been so beautiful. Hugh Grange, down from his medical studies, is visiting his Aunt Agatha, who lives with her husband in the small, idyllic coastal town of Rye. Agatha's husband works in the Foreign Office, and she is certain he will ensure that the recent saber rattling over the Balkans won't come to anything. And Agatha has more immediate concerns; she has just risked her carefully built reputation by pushing for the appointment of a woman to replace the Latin master.
 
When Beatrice Nash arrives with one trunk and several large crates of books, it is clear she is significantly more freethinking—and attractive—than anyone believes a Latin teacher should be. For her part, mourning the death of her beloved father, who has left her penniless, Beatrice simply wants to be left alone to pursue her teaching and writing.
 
But just as Beatrice comes alive to the beauty of the Sussex landscape and the colorful characters who populate Rye, the perfect summer is about to end. For despite Agatha's reassurances, the unimaginable is coming. Soon the limits of progress, and the old ways, will be tested as this small Sussex town and its inhabitants go to war.
Expected date of publication: March 22
Cover Stuff: I think the cover would look real good if those textures are real. On the other hand, those houses look as if they're just filling the remaining space on the left. I would fill those white spaces with more details. A house, a flower bed, a brick road, a few clouds. Make that woman pop-out.
Thoughts: Let's take a break from knights, time-travel and post-apocalyptic London to a quieter read. I encountered Helen Simonson one time, when I was searching for historical fiction novels to read or keep in mind after my obsession for Pride and Prejudice. Helen Simonson appeared on the list with her novel Major Pettigrew's Last Stand (which has a vibrant yet simple cover) and so I kept her in mind. Now, I am also keeping her new novel in mind. I don't know when I'd be able to read her novels but she's certainly in my mind.
Hex by Thomas Olde Heuvelt
Whoever is born here, is doomed to stay 'til death. Whoever settles, never leaves.

Welcome to Black Spring, the seemingly picturesque Hudson Valley town haunted by the Black Rock Witch, a seventeenth century woman whose eyes and mouth are sewn shut. Muzzled, she walks the streets and enters homes at will. She stands next to children's bed for nights on end. Everybody knows that her eyes may never be opened or the consequences will be too terrible to bear.

The elders of Black Spring have virtually quarantined the town by using high-tech surveillance to prevent their curse from spreading. Frustrated with being kept in lockdown, the town's teenagers decide to break their strict regulations and go viral with the haunting. But, in so doing, they send the town spiraling into dark, medieval practices of the distant past. (MacMillan Publishers)
Expected Date of Publication: April
Cover Stuff: The cold, bleak monotones, the splash of red highlights over the houses, the dark shadow threatening the corners of the book, the birds sweeping over the horizon and the moon peeking from the sky. Those clumsy seams may be fake or not (it would be pretty awesome if it were) but everything about this cover is really pleasant to look at.
Others/Thoughts: Why shouldn't I read this? This looks awesome.
Putting awesomeness aside, the novel is originally published in Dutch three years ago. The author, Thomas Olde Heuvelt, published his first novel at 16 and received several awards on his succeeding novels. Some of his books were translated in english and received awards as well, making you wish you were this guy. In April 2016, his novel Hex will be published in the US.
I will so read this book.
Children of Earth and Sky by Guy Gavriel Kay
From the small coastal town of Senjan, notorious for its pirates, a young woman sets out to find vengeance for her lost family. That same spring, from the wealthy city-state of Seressa, famous for its canals and lagoon, come two very different people: a young artist traveling to the dangerous east to paint the grand khalif at his request—and possibly to do more—and a fiercely intelligent, angry woman, posing as a doctor's wife, but sent by Seressa as a spy.
The trading ship that carries them is commanded by the accomplished younger son of a merchant family, ambivalent about the life he's been born to live. And farther east a boy trains to become a soldier in the elite infantry of the khalif—to win glory in the war everyone knows is coming.
As these lives entwine, their fates—and those of many others—will hang in the balance, when the khalif sends out his massive army to take the great fortress that is the gateway to the western world…
Expected Publication: May 10
Cover Stuff: The gradient is a balance of warm and cool colors. The compass stands out but doesn't clash with the text. The huge text balances the amount of detail of the sun. It's a catchy cover and even if I didn't know this book, I'll probably pick it up and peek inside.
Others/Thoughts: According to Tor, the author of this book is known for recreating historical periods using fantasy. His other novels are set from the middle ages to 8th century China. This looks like a straight-up historical fiction though, but I'm not really sure what it could be. The synopsis quickly grabbed my interest and I think this is one novel I am certainly be reading next year.
Company Town by Madeline Ashby
Meet Hwa. One of the few in her community to forego bio-engineered enhancements, she's the last truly organic person left on the rig. But she's an expert in the arts of self-defense, and she's been charged with training the Family's youngest, who has been receiving death threats – seemingly from another timeline.

Meanwhile, a series of interconnected murders threatens the city's stability – serial killer? Or something much, much worse…?
Expected date of publication: May 17
Cover Stuff: The bleak but intense colors reminds me of the promo posters of Marvel movies. Hell, what am I yakking about, this is how you make covers.
Others/Thoughts: From what I understood in the synopsis, there will be robot humans, murder, and time shenanigans (again). The author is quite an interesting person (her Masters thesis is about anime, fan culture and cyborg theory. I wouldn't mind reading that) and I even followed her on twitter. If I should read her novel or not, it's quite the same with Tim Powers. I'm stepping into unknown territory here and I need a bit of a push.
Underground Airlines by Ben H. Winters
"An epic contemporary detective story," according to the publisher, set in alternate world in which the Civil War never happened and slavery still exists in the American South. The novel follows an undercover agent trying to capture an escaped slave. (Goodreads)
Expected publication: July 5
Cover Stuff: Amazing. It's simple but it already speaks a lot about the novel.
Others/Thoughts: Ben Winters has been on my list for months but I still haven't read any of his novels. Winters also happen to be the writer of the mash-up novels Sense and Sensibility & Sea Monsters and Android Karenina. Besides his humorous mash-ups, he wrote the pre-apocalyptic, detective series The Last Policeman that earned excellent reviews and praises. Detective/Crime fiction always has a spot in my massive To-Read list and better if they're set in odd worlds or cities.